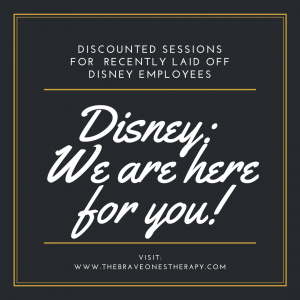 It is not news to anyone that 2020 has been a particularly difficult year. I cannot think of a single person who has been left untouched by loss, increased stress, disappointment, or inconvenience. Many of us have had to become creative as we learn to cope with our individual situations, and as we lean into our resiliency. And, it was no different as news circulated of the shocking blow to our central Florida community in learning that tens of thousands of Disney employees were being laid off. In hearing this, a few of our therapists spoke together on how we could offer therapeutic support to the Disney community.
For a limited time, participating therapists at The Brave Ones will be offering discounted sessions to recently laid-off Disney employees. We will be offering 3 sessions at $35/session. We wanted to offer discounted sessions close to a traditional copay amount. After the 3 discounted sessions, a client is able to continue services with the therapist at the therapist's regular fee (the therapist will provide their regular fee cost to the client at the start of therapy), or discontinue services with additional counseling referrals, if needed.
*In order to receive these discounted services, a client must provide the therapist with a form of proof (letter, email, etc.) that they were a Disney employee, and laid off in 2020.
At The Brave Ones, we want to support our community with accessible mental health services. If you, or someone you know would like to know more about this offer, or our services in general, please give us a call at 407-745-4616, or at www.simplybrave.com