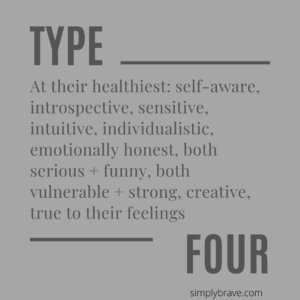 Are you an Enneagram Four?
Let's start with the high side of each enneagram type.
Think about a time in your life when you were at your healthiest in mind, body, and spirit. Is this how you experienced yourself? Have you been complimented by others for possessing these traits?
If it's been awhile since you've been at your healthiest, then reflecting on a time in your life when you were living into the high side of your personality can give you the motivation you need to find your way back.
***
Not 100% sure if this is your number? That's totally ok. If you are new to the enneagram, it can take a while to uncover your primary type. Stay with us as we continue to unpack this sophisticated tool – we are only just getting started.
***
#enneagram
#enneagram1
#enneagram2
#enneagram3
#enneagram4
#enneagram5
#enneagram6
#enneagram7
#enneagram8
#enneagram9
#courage
#vulnerability
#shame
#mentalhealth
#personalgrowth
#leadership
#emotionalintelligence