April 18, 2023 @4:30pm
$35.00
A therapist-guided Salt Room Meditation designed to help you calm your nervous system and develop the all-important practice of self-compassion.
These 30-minute intimate group sessions combine aromatherapy, breathwork, meditation, salt therapy, and education to help you nurture your inner world.
This is not group therapy. In fact, you will not be required to talk at all!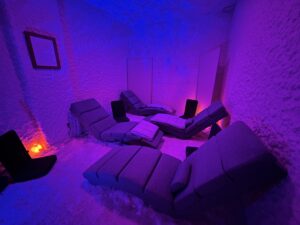 Doors open at 4pm and close at 6:45. You are welcome to enjoy our self-care retreat and shop in our self-service gift shops before or after your session.
All tickets are nonrefundable.
Bookings
Bookings are closed for this event.