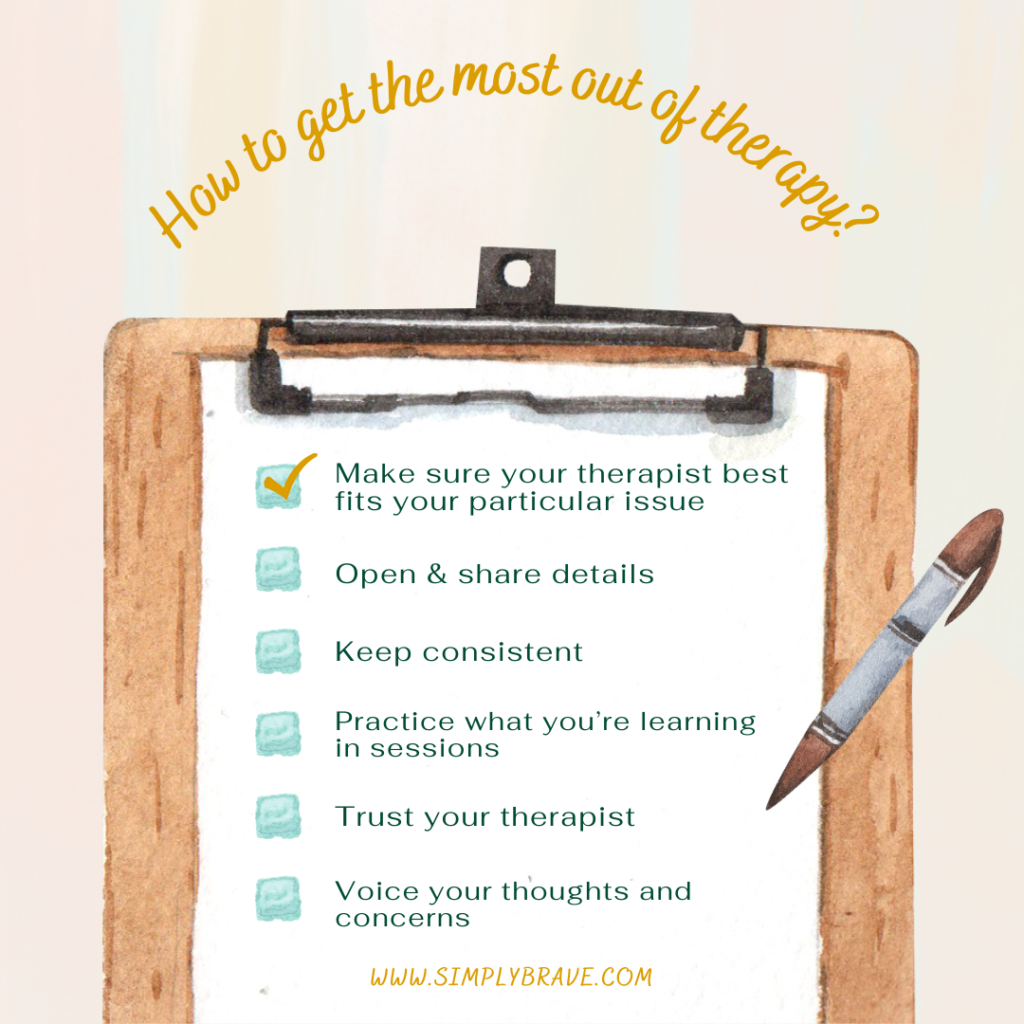 Therapy can really change your life!
The rewards of getting help through therapy takes a commitment of your time, energy, and money, but it is worth the effort in the end as you discover that you feel less anxious, happier, and more in control and content with your life and yourself.
I have provided some helpful tips to help you on your journey through therapy so you obtain your best results from your therapy sessions.
Firstly, you need to begin your search by finding the right therapist that best fits your particular issues. Therapists have certain specialized areas that they are experienced in and this information is located on our website https://simplybrave.com/ under their profile.
It helps to always be open and share the details of concerns with your therapist. Your therapist will keep all your information confidential and will not judge you. Your therapist will not be shocked by anything you say and will accept you unconditionally.
Consistency is key to your therapy being successful.  If sessions are not on a regular basis or missed appointments happen, the process can be interrupted which is critical to your progress.
Journaling is a popular tool for therapists as you write down your thoughts and feelings before sessions. This can help you get feedback and track your progress as you discover more about yourself to make needed changes.
Practice what you're learning and do your homework. Again, consistency is important to reinforce your learning or the information could be lost-change takes effort!
Trust your therapist. Your therapist has gone through extensive training to become a licensed therapist. Therapists are trained to uncover things you may not be aware of to guide you so you can understand yourself and see yourself more clearly. It takes courage to change and it can be hard. You will need to be aware and accept there might be some internal discomfort as you move forward.
Lastly, voice your thoughts and concerns to your therapist. If you are honest with your therapist, your therapist can make adjustments to make sure you are comfortable and understood.
___________________________________________________________-
Anne Trapp Shirley is a Licensed Mental Health Counselor and Clinical Supervisor in Orlando, Florida. She has over 20 years of experience encouraging clients by sending a message of hope that they can overcome life's obstacles that get in the way of living their best life!