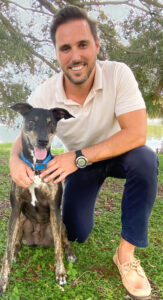 It's not how you start; it's how you finish.  And you are not done yet!!  Matt is a native Floridian from right here in Orlando, enjoying the sunshine every step of the way.  He graduated from Florida State University with a bachelor's degree in Sport Management and naturally, went in a completely different direction!!  He moved to Los Angeles to study theater, working in film, television and performing on stage along the way, fulfilling a lifelong dream to share his love of laughter and entertainment with anyone who needed it.  After returning to Orlando, Matt obtained his Masters in Counseling and Human Development under the guidance of his amazing counselor who helped him realize his potential to empower others.  You too have untapped potential in you, the ability to live a passion and purpose driven life, regardless of what you have faced in the past, this is the first step.
Trained in EMDR (Eye Movement Desensitization and Reprocessing Therapy), ART (Accelerated Reprocessing Therapy), CBT (Cognitive Behavioral Therapy) and The Gottman Method (Couples Therapy), Matt is passionate about sharing everything he has learned with his clients who seek to overcome their past to uncover their true self, free from anything holding them back.
When not practicing, Matt loves to play with his dog, surf, exercise and perform at the local theater.  You have something inside of you that is waiting to be realized, Matt is beyond grateful to be a part of your journey, creating a story that you can be proud of!!
______________________________________________________________________________
Session Rates
$175 – Couples
$125 – Individual
In-Office or Virtual
To schedule a session or set up a free 15 min consultation call, contact Matt at militanocounseling@gmail.com
*Sliding Scale Rates offered are subject to availability