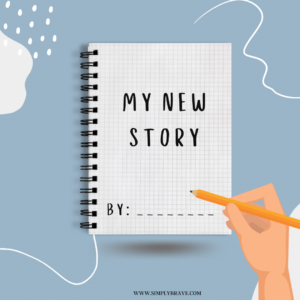 We are all natural storytellers. We make sense of the world based on the stories we tell ourselves about who we are and how things work. Parents teach their young children life lessons through the telling of fairytales. Most people learn about the Bible through "Bible stories". The history of our cultures started out by being passed down as stories, told over and over again. We all also have a story about who we are. Specific moments of the past become chapter headings, tracing all the way back to the origin story of when we were born. What so many people forget, is that their story is not set in stone. No one is bound by their current story. Instead, it is constantly evolving and growing as we change and adapt to the world around us. It's possible to not only write a new story going forward, but to re-author your current one. You don't have to be defined by your mistakes; you can be someone who overcame great difficulties. You don't have to remain a victim; you can be defined by the moments you were brave. Your story can be anything you want it to be, you just have to be willing to go back and look at your past in a new light.
_________________________________________________________________________
Arielle is a Licensed Marriage and Family Therapist in Florida and Georgia, as well as an AAMFT Approved Supervisor. She specializes in working with anxiety, depression, and relationship concerns.