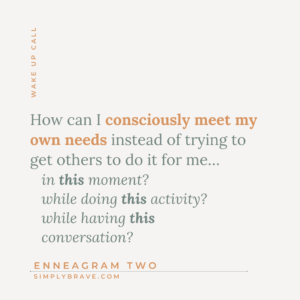 The enneagram shows us not only who we are when we are in the "trance of personality" but also how we can wake up to ourselves at any given moment.
When caught in the trance, enneagram twos can become fixated on meeting others needs as an unconscious means to getting their own needs met. This fixation can be a heavy burden to bear and it can interfere with relationships, goals, and overall impact.
To wake up, enneagram twos can ask themselves:
How can I consciously meet my own needs instead of trying to get others to do it for me…
in this moment?
while doing this activity?
while having this conversation?
By checking in and asking themselves these questions, Twos can loosen the grip of their personality and move towards embodying their highest self.
***
#enneagram
#enneagram1
#enneagram2
#enneagram3
#enneagram4
#enneagram5
#enneagram6
#enneagram7
#enneagram8
#enneagram9
#courage
#vulnerability
#shame
#mentalhealth
#personalgrowth
#leadership
#emotionalintelligence
***